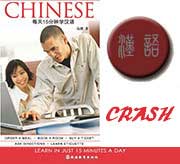 Kirin Mandarin crash course is the most popular part time crash course . That`s gain without pain. no boring studying,no jargon,just some fast and fun real-life speaking practice.learn all the essential words and phrases then start speak mandarin chinese.
and you can take our handbook prepared for you any time to get the most out of your trip.
You are ready: Start speak Mandarin Chinese in just ONE DAY!
What you will learn
Introductions
This will teach you how to introduce yourself and greet people when speaking in a Chinese Mandarin conversation.
Eating & drinking
Help you order the perfect meal eyery time in a chinese restaurant.
Making arrangements
Here you will learn day/time and numbers,appointments on the telephone and etc.
Travel
Go from the airport to the hotel,find a place,shopping,eating out,book a taxi,and more.
About town
It is about sightseeing,asking for directions.we also could introduce you most of the city in China.
Accommodation
Dialogue to get you through those daily frustrations, like booking a room in a hotel,room service...
Shopping
Get what you want in a department store or a electronics store, And you will learn how to bargain in Chinese:)
Work & Jobs
You will learn key sentence when you at a conference,and some basic business Chinese.
Health&hospital
You do need this in the event of an emergency.we will also talk about traditional pharmacies,and acupuncture.
At Home
Speak Chinese to your mother/father in low from today.
Services
Post office and bank,police and crime,top-up your hand phone...
Leisure & socializing
Leisure time,sport and hobbies, and also the culture of Chinese wine,
More Courses